---
Rubber backing mouse pads
Rubber backing mouse pads with a laminated surface are the most common mouse pads used as gifts and promotions in South Africa.
Laminated surface rubber backing model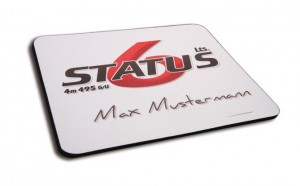 These mouse pads have a high quality 1.5 mm or 2 mm solid rubber backing. This is a slightly heavy non slip material that results in a mouse pad that has a quality feel. The quality backing is non slip and will not lift at the corners during use. (Unlike very cheap light foam mouse pads)
We double laminate this rubber backing, first we laminate the rubber and then add the cardboard image.  this is then laminated again with a high quality professional optical read surface.
---
Benefits of the laminated rubber backing mouse pads
Most modern computer mouse devices are optical. They use either LED diode or laser light emitting source and an imaging array of photo diodes that receive the reflected information. For these to work accurately the best surface is one that is not reflective and has a fine pattern enabling the photo diode to detect the slightest of movement relative to the surface.
We have experimented with various surface materials for our mouse pads until we finally arrived at the perfect material which gives an extremely accurate response.
This model is most suitable for large volume mass production, we can produce very high volumes in a relative short period due to the production process.
---
Minimum order for laminated rubber mouse pads
By far the most common mouse pad size is the rectangular 230mm x 190mm. Our minimum mouse pad order is from only 50 units as long as they are standard sizes as shown below:
Rectangle mouse pads 230mm x 190mm (Corners rounded)
Square mouse pads 200mm x 200mm (Corners rounded)
Round mouse pads 200mm diameter
Oval mouse pads 230mm x 185mm
We have existing dies for all the above size mouse pads.  Any variance will result in a higher cost as we have to produce a die for cutting.
---